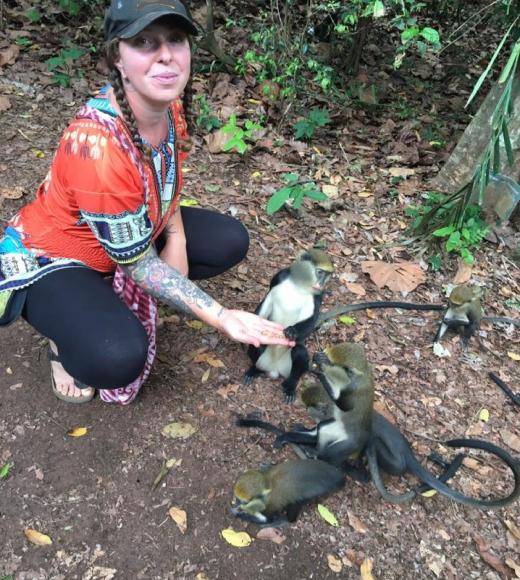 Unit

International Agricultural Development
Bio
Project
Conservation Agriculture (CA) has been proposed to be a solution to improve soil conditions and yield at the field scale, but adoption continuously fails. My project focuses on understanding the barriers and opportunities for CA uptake in the northern transitional region of Ghana.  By using a participatory approach; combining participatory field trials, semi-structured interviews, and adoption rating tests, I am exploring the dimensions (environmental, utility, socio-behavioral) influencing farmer's decision making process leading to adoption or non-adoption. Simultaneously, I am assessing the benefits and drawbacks of the participatory approach. 
Background
Sara grew up in the Bay Area, where the majority of her family still resides. She received her bachelor's degree from The Evergreen State College in Plant Science and Ethno-ecology.  Sara has traveled for most of her young adult life and this passion for traveling combined with an interest in agriculture led her to join the Peace Corps.  After three years of serving in Ghana, followed by multiple years working on diversified vegetable farms, she joined the International Agriculture Development group at UC Davis in order to explore the relationship between development, extension and research. As a Peace Corps Volunteer she developed women's savings and loans groups and supported small holder farmers in adopting conservation agriculture practices through developing training programs and implementing demonstration fields in the communities she worked with. Her experience abroad helped shape her research interest as she witnessed how vulnerable rural populations are to our changing climate and other global impacts.
Research Interests
My interests are concerned with participatory approaches to agronomic research: engaging stakeholders in the research process to better bridge research and extension efforts, and develop best fit solutions for end users. My focus has been on exploring ecological intensification practices that best fit the agroecosystems, as well as evaluating dimensions which influence farmer's decision making on adopting agriculture innovations.